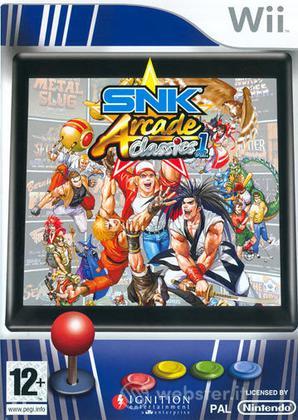 Contenuto
Negli anni Novanta, il Neo Geo era il sogno di ogni ragazzo che frequentava le sale giochi, con i migliori arcade di ogni genere: dai picchiaduro, come Fatal Fury e Samurai Showdown, agli sportivi come il calcio di Super Sidekicks 3 e il golf di Neo Turf Masters... Senza dimenticarsi lo sparatutto Metal Slug, un vero classico! SNK Arcade Classics porta sul tuo Wii 16 di questi giochi leggendari, da gustarsi fino in fondo senza aver paura di finire le monetine.

Caratteristiche:
Trasforma il tuo Nintendo Wii in una vera sala giochi!
Completo supporto multigiocatore per divertirsi con un amico.
16 successi arcade in versione originale: Metal Slug, Fatal Fury, Samurai Showdown, The Next Glory - Super Sidekicks 3, Magician Lord, Baseball Stars 2, World Heroes, Top Hunter - Roddy & Cathy, King of the Monsters, Burning Fight, Art of Fighting, Shock Troopers, Sengoku, The King of Fighters 94.
Forse ti potrebbe interessare anche