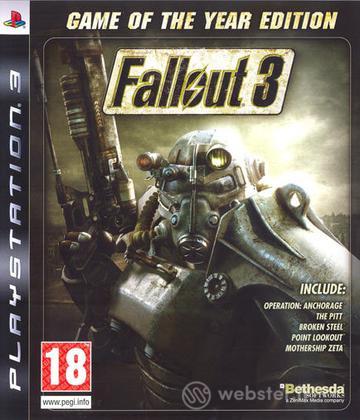 Fallout 3 Game Of The Year
Contenuto

La Game of the Year Edition contiene il gioco completo Fallout 3 più 5 contenuti esclusivi: Operation: Anchorage, The Pitt, Broken Steel, Point Lookout e Mothership Zeta.
Operation Achorage, una simulazione militare di combattimento in una delle più grandi battaglie dell'universo di Fallout: laliberazione di Anchorage, Alaska, dall'invasione comunista.
The Pitt rivivrà una degradata Pittsburg, Pennsylvania post nucleare.
Broken Steel espande la quest principale, aumentando il livello massimo a 30 con armi e abilità mai viste.
Point Lookout: una gigantesca area paludosa da esplorare piena di nuove missioni e contenuti.
Mothership Zeta: gli alieni prenderanno il sopravvento nell'ultima espansione di questo capolavoro.
Localizzazione: scatola, manuale e software in italiano.


Forse ti potrebbe interessare anche