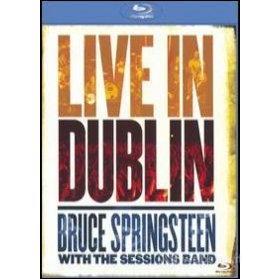 Bruce Springsteen. Bruce Springsteen with the Session Band Live in Dublin (Blu-ray)
Spedito normalmente in 8/9 giorni lavorativi
Dettagli del prodotto
Ean:

0886970987394

Supporto:

Blu-ray

Produttore:

Sony Music

Genere:

Musica

Lingue:

Inglese

Colori:

Colori

Anno di produzione:

2007

Area:

Area B (Europa, Australia, Nuova Zelanda, Africa)

Sottotitoli:

no

Formato Audio:

PCM, Dolby Digital 5.1, Dolby Surround 2.0 - stereo

Sistema:

Full HD
Contenuto
Registrato al The Point di Dublino il 17, 18, 19 novembre 2006 in occasione del tour "We Shall Overcome The Seeger Session". Tracklist: Atlantic City; Old Dan Tucker; Eyes On The Prize; Jesse James; Further On Up The Road; O Mary Don't You Weep; Erie Canal; If I Should Fall Behind; My Oklahoma Home; Highway Patrolman; Mrs. McGrath; How Can A Poor Man Stand Such Times And Live; Jacob's Ladder; Long Time Comin'; Open All Night; Pay Me My Money Down; Growin'up; When The Saint Go Marching In; This Little Light Of Mine; Amercan Land; Blinded By Light; Love Of The Common People; We Shall Overcome.
Forse ti potrebbe interessare anche
Voto medio del prodotto:

(5 di 5 su 1 recensione)
Le radici della musica americana
In molti storsero il naso quando nel 2007 il Boss tirò fuori We Shall Overcame, un sentito tributo alle radici della musica popolare americana. Si aspettavano un nuovo album con la rediviva E-Street band, il vero seguito dello stupendo The Rising del 2001. E invece si sono ricreduti tutti, l'energia in quell'album era immensa e fu tutta immortalata in un serie di concerti indimenticabili, tra cui quest Live in Dublin. Consigliatissimo.