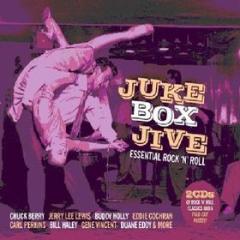 Juke box live-essential rock 'n' roll
Contenuto
01. Berry, Chuck "Maybellene"
02. Holly, Buddy "Oh Boy"
03. Cochran, Eddie "C''mon Everybody"
04. Domino, Fats "Ain''t that a shame"
05. Big Bopper, The "Chantilly lace"
06. Eddy, Duane "Rebel Rouser"
07. Wilde, Marty "Endless sleep"
08. Lewis, Jerry Lee "Great Balls Of Fire"
09. Brenston, Jackie "Rocket 88"
10. Coasters, The "Charlie Brown"
11. Little Richard "Keep A Knockin''"
12. Baker, LaVern "Jim Dandy"
13. Berry, Chuck "Roll Over Beethoven"
14. Holly, Buddy "Rave on"
15. Richard, Cliff "High class baby"
16. Day, Bobby "Rockin'' Robin"
17. Bartholomew, Dave "The Monkey"
18. Mizell, Hank "Jungle rock"
19. Berry, Richard "Louie Louie"
20. Holly, Buddy "You''re So Square (Baby I Don''t Care)"
21. Valens, Richie "Come On Let''s Go"
22. Perkins, Carl "Blue Suede Shoes"
23. Berry, Chuck "School Day"
24. Lewis, Jerry Lee "High School Confidential"
Disc 02
01. Perkins, Carl "Matchbox"
02. Cochran, Eddie "Twenty Flight Rock"
03. Curtis, Mac "Grandaddy''s Rockin''"
04. Vincent, Gene & His Blue Caps "Be Bop A Lula"
05. Lewis, Jerry Lee "Whole Lotta Shakin'' Goin'' On"
06. Danny & The Juniors "At the hop"
07. Belvin, Jesse "My satellite"
08. Little Richard "Lucille"
09. Diddley, Bo "Hey Bo Diddley"
10. Haley, Bill "Shake, Rattle And Roll"
11. Dean, Bobby "Just Go Wild Over Rock & Roll"
12. Bees, The "Toy bell"
13. Otis, Johnny "Willie And The Hand Jive"
14. Barry, John "Let''s have a wonderful time"
15. Bell, Freddie & The Bellboys "Hound dog"
16. Watson, Johnny "Guitar" "Space Guitar"
17. Ballard, Hank "Sexy ways"
18. Little Richard "Rip it up"
19. Day, Margie "Little red rooster"
20. Bennett, Joe & The Sparkletones "Black slacks"
21. Beach, Bill "Peg pants"
22. Blackwell, Rory "Bye bye love"
23. Baxter, Art & His Rock ''N'' Roll Sinners "Art''s theme"
24. Bennet, Boyd & His Rockets "The most"

Forse ti potrebbe interessare anche